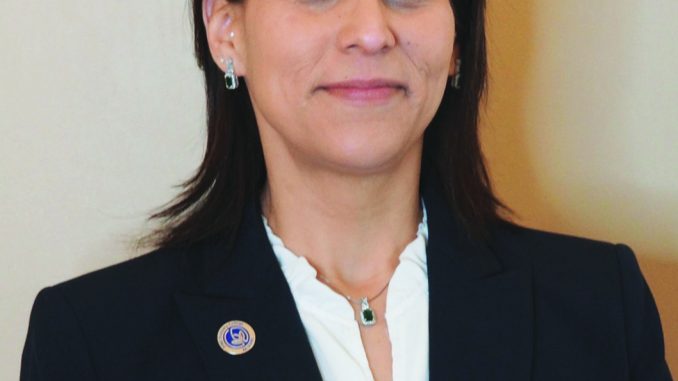 Revised National Hispanic Heritage Month Yesenia (Torres) Patrick
For Hispanic Heritage Month, we asked Yesenia (Torres) Patrick of Kenneth H. Pollard Funeral Home in Methuen, MA, who has been in full-time funeral service since 2011, to share her experience as the only Spanish-speaking Hispanic woman funeral director in her county. She said, "(Being the only one) is a great privilege and honor but can also be challenging at times.
With the support of her co-workers, friends and family, Yesi has embraced the challenge and learned to thrive in her environment. Her Cuban and Ecuadorian background and fluency in Spanish are a key part of the value she provides to her firm. "I've been able to help a lot of Spanish-speaking families in the community. It's amazing how much connection can come from being able to understand different customs and traditions."
A Methuen High School graduate, with family still in town, Yesenia (Torres) Patrick brings with her years of experience, an authentic, caring disposition, and a purpose for serving the community that has served her well.
Born into an Ecuadorian and Cuban family, Miami, FL was home before moving to Methuen in 1996 at the age of ten. After graduating high school, she pursued her interest in the funeral field by attending and graduating from The Funeral Institute of the Northeast in Norwood, MA in 2013.
She excelled in her career as a licensed funeral director and embalmer on the south shore specifically for the Jewish community. Yesenia is happily married to Nathan Patrick, who is also a funeral director. Together, they are currently living in Methuen, where they are now parents to two beautiful young boys, Samuel and Daniel.
During the rare times she is off, she spends it with her family, immediate and extended. She is not one to stay home if there is an opportunity to travel; she has been fortunate to visit Cuba, Spain, Portugal, Ecuador, Mexico, Canada, and all of the Caribbean Islands. Being bi-lingual has certainly helped during her traveling as well as in her career.
Yesi is proud to be serving her community with a family-owned, community-oriented funeral home. She is also proud to be serving on the Massachusetts Funeral Director Association Board of Directors, Massachusetts Funeral Director Association Strategic Task Force, and Advisory Board for Fine Mortuary College in Norwood.
To other Hispanics considering a career in funeral service, Yesenia advises: "Never forget your background. It has been so helpful to me in serving the families that I meet with on a regular basis. If I wasn't in touch with my Hispanic background, if I wasn't in touch with being able to speak, write, and read in Spanish, then I wouldn't feel as fulfilled in my job as I do. It's been an honor to serve the families I have been able to serve, and I really enjoy my job. I enjoy it more than I ever thought I could."