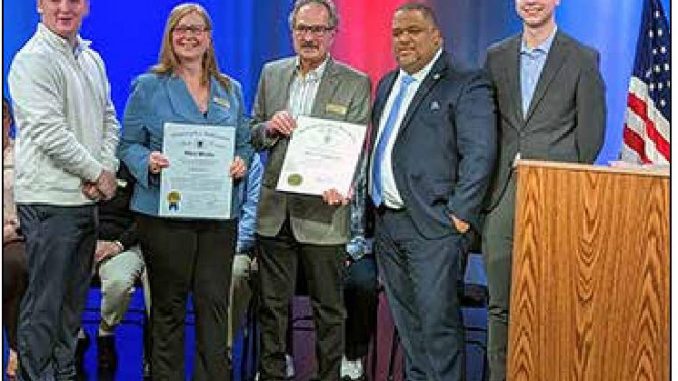 Methuen Community Television
By Dalia Díaz
State Representatives Francisco Paulino, Ryan Hamilton, and Estela Reyes along with Senator Pavel Payano celebrated the successes of Methuen Community Studios by recognizing their efforts through the years to entertain and educate the people of that city.
Executive Director Karen L. Hayden received proclamations from the Senate and the House of Representatives in the name of the board and volunteers working at the television station.
Rep. Paulino expressed his gratitude for the way Methuen Television has been serving this community.  "They have a very important job in an era when social media has become the way many people find their news and it's not always accurate," he told the audience.
He continued to extol the benefits of having this media in our cities. "Local television is vital in informing Methuen residents, inspiring creativity, and helping our young people who might want to become journalists or television technicians.  They learn how to use cameras and produce their programs, giving them the tools for creative content," then, he added, "Public television is now more important than ever."
Board President Tom Grassi who has been on the board since 2005, made a historical account of the COVID days and the difficulties they encountered bringing information and education to the community while keeping a safe distance and wearing masks.  The Board's commitment to quality is reflected in the programming available to everyone.
Another studio is a gorgeous full kitchen where cooking shows take place and where Rep. Paulino will begin his own show soon.  Cooking is popular in his family because his wife Ruby Purohit brought delicious croquettes along with lots of goodies to celebrate.
Sen. Pavel Payano had a late night at the State House and State Rep. Estela Reyes could not attend because she had an Ordinance Committee meeting that evening.  She was represented by her Legislative Aide Tom Baranowski.