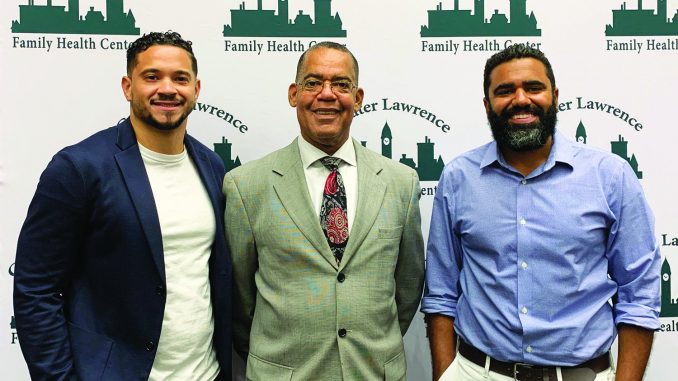 Restorative Justice in Education Requires a Shift in Mindset
When Jadi Taveras became Head of School at Esperanza Academy, there were many people who expected him to be a strict disciplinarian. He had a different idea.
'We can't just go to what is the quickest answer or the quickest form of discipline," Taveras said. "We need to talk about how we can react to better support this child so that we can help this child, and so that this child loves school. And that's a lot of what restorative justice is about."
Restorative justice in education was the topic in the second session of the #GLFHCSpeakerSeries, hosted by Greater Lawrence Family Health Center at Lawrence High School on August 18. The session touched on the many different meanings of the term "restorative justice," and also the many "restorative practices" that help improve the schools that serve the most vulnerable students in our communities.
Quin Gonell, Manager of Restorative Justice at Lawrence High, works with students to help them shift their mindset, and said the school has had great success by reframing the conversation.
"It's not about breaking the rules, it's about causing harm," Gonell said. "We want you to see how your behavior, your action, is causing harm to this community. It's less about individualism and more about community."
Gonell said teachers and administrators are also working to shift their mindset from behavior management to forming relationships.
"When someone breaks a rule and causes harm, rather than just looking at what they did and judging them, look at the cause of the behavior and what's possible in doing the repair work," he said. "Judgement can get in the way of how well we are able to serve our students."
Taveras said trust and transparency are of the utmost importance. When students feel safe, they listen and talk. When students listen and talk, they learn.
"It's creating a place where adults, parents, and students feel seen, valued, and respected," he said. "And through restorative justice that we actually accomplish that."
Taveras is a first-generation Latino from Lawrence. He is a graduate of Kimball Union Academy (NH) and has a bachelor's degree from Siena College in Political Science and Global Studies. He spent a semester at Stellenbosch University in South Africa working alongside the African National Congress Youth on issues of civil rights. This experience, coupled with his family's journey as immigrants from the Dominican Republic, sparked a passion and commitment to supporting and advocating for marginalized communities. After several years of leading international development initiatives in Latin America and East Asia, Taveras earned his master's degree in Intercultural Leadership, Communication, and Management from SIT Graduate Institute in Brattleboro, Vt. He was appointed Head of School at Esperanza Academy – an all-girls middle school with a 12-year commitment to its students – in 2018.
Gonell grew up in Lawrence, in an immigrant household as the youngest of eight siblings who endured significant struggles related to family life, schooling, and the carceral system. Despite the odds, Gonell earned both high school and college diplomas, crediting the strong relationships he cultivated with teachers and peers as a major factor in his ability to successfully navigate the adversities that often hinder the ability of inner-city youth to resolve their life's challenges. He continues to apply these values in his role as a school administrator tasked with expanding restorative practices at Lawrence High, which serves more than 3,000 youth of color. Gonell is a Salem State University Hall of Fame Teacher and was selected as a Massachusetts Colleges and Universities Teacher of the Year. His more recent work as an academic researcher was recognized by the Association of American Colleges and Universities which named him a 2021 recipient of the K. Patricia Cross Future Leaders Award.
The session is available for viewing on GLFHC's YouTube channel: https://www.youtube.com/watch?v=aDKcF-mxNGg.
The next topic in the series is "Staying Hopeful: The Many Approaches to Overcoming Substance Use Disorder." Further details will be forthcoming.
About GLFHC: The mission of Greater Lawrence Family Health Center is to improve and maintain the health of individuals and families in the Merrimack Valley by providing a network of high-quality, comprehensive health care services and by training health care professionals to respond to the needs of a culturally diverse population. More than 62,000 patients depend on GLFHC for their primary health care needs at locations in Lawrence, Haverhill and Methuen.