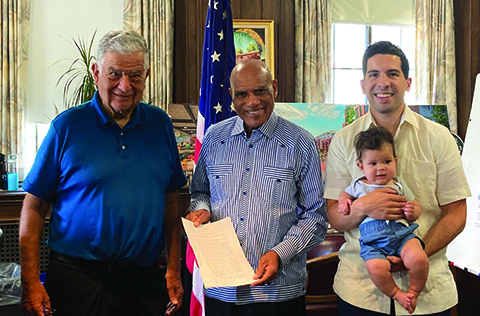 Mayor Fiorentini Announces Signing of New, Ward-Based Councilors, School Reps
Governor Charlie Baker on Friday signed long-awaited legislation changing how Haverhill elects city councilors and School Committee members to a mostly ward-based system, Mayor James J. Fiorentini announced.
There will now be 11 city councilors, one each to represent the city's seven voting wards and four at-large councilors elected who will represent the city as a whole. Previously, nine city councilors were each at-large.
The School Committee also increases to 11 members, one each to represent the city's seven wards and three at-large members to represent the city as a whole. The mayor is the eleventh School Committee member, per the city charter. The bill also reduces School Committee terms from four to two years. Those elected to four-year terms last November, however, will complete their current four-year terms.
Mayor Fiorentini has advocated for many years to elect most city councilors by ward – a proposal he first made when he first ran for mayor in 2003, stressed during his 2019 re-election campaign and has reiterated numerous times over the years.
"I have long felt that the best way to deliver good neighborhood constituent service is by having neighborhood councilors" Mayor Fiorentini said. "Neighborhood councilors know which streets need to be paved, they know the problems in the neighborhoods, and they will advocate for their neighborhoods. Ward representation is also a better means of having a city council that reflects the broad diversity of the city."
The state House and Senate approved the legislation – An act providing for the election of at-large and ward councilors and school committee members in the city of Haverhill – earlier this summer.
Haverhill residents last fall voted by a 2-1 margin in favor of ward representation in a non-binding referendum. City Councilors in March voted to send the city's petition to the legislature.