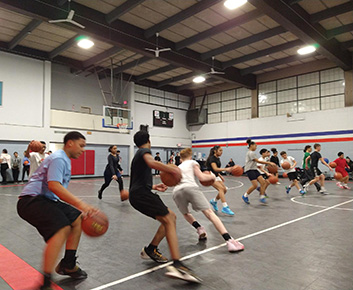 SISU: Where Nothing's Given – Everything's Earned
It's a normal Tuesday night in Lawrence. 75 boys and girls are running drills in the gym at 580 Haverhill Street. The same thing is happening down the hill at 400 Haverhill Street. Members of the SISU Basketball staff are running drills, monitoring the doors, and managing conflicts.
Seven days a week, SISU Basketball is happening in Lawrence Prospera's gyms at 400 Haverhill Street and 580 Haverhill Street. Monday, Tuesday, Wednesday, and Friday are skills & drills and structured practices for all grade levels. Thursdays are family night at the SISU Center. From 5:30 to 9:00 parents and their players are invited for dinner, workshops, and a raffle. On Friday nights, the gym is open late for drop-in play. Intramural games are played Saturdays and Sundays.
The SISU Basketball Program serves boys and girls in grades 5 through 10. When registration opened in late November, they anticipated 100 participants. They registered 250. The program runs intramural leagues for grades 5 through 10 no matter their skill level. Travel and tournament opportunities are open to players who excel on and off the court. No one is guaranteed a spot, every spot is earned weekly.  SISU Basketball is funded through grants and is free to the community. Players receive t-shirts, sweatshirts, hats, and jerseys. They can earn gift cards, sneakers, and sporting equipment as incentives and through the raffles.
SISU Basketball is run by some of Lawrence's well-known basketball enthusiasts. SISU's Program Director, Dan Halloran, has been coaching all levels of basketball in Lawrence for years. SISU Basketball's Program Coordinator Luis Perez was a stalwart player at Lawrence High School. Members of the 2022-2023 Lawrence High Varsity team are coaching teams and officiating games. The SISU Basketball Program staff is more than just coaches and officials. They are mentors, role models, case managers, and outreach workers. They are trained in the SISU Way, guiding players in strong decision-making both on and off the court. They teach communication, conflict management, and time management. While they are not clinicians, they know when to ask questions and when to listen; and they know that not every issue begins and ends on the court. They are trained to recognize when a player is acting or reacting in response to trauma in their environment, and they are prepared to help that player manage their emotions in a positive and pro-social manner.
The SISU Center is a youth development program that works with high-risk young people, ages 14 to 24, living in Lawrence and Methuen. SISU's mission is to work with young people who have struggled to find success in more traditional and mainstream educational settings and youth-serving programs. The majority of SISU's referrals come from law enforcement or one of the different alphabet agencies working as part of or with the Massachusetts criminal justice system. The SISU Center uses a strength-based case management model and provides street outreach, case management, access to mental/behavioral health services, vocational training, GED/alternative education, and recreational programming.  Young people create individual success plans, developing goals and a realistic framework to meet those goals.