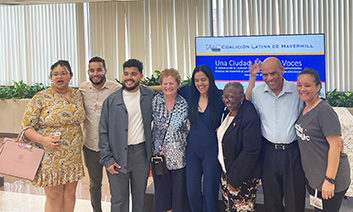 A Voice for All
Una Voz para Todos
By Kathy Rurak
On Sunday, May 7th over 70 Haverhill residents gathered at the Citizens Center for an Informational Workshop on the changes to our system of electing city council and school committee members.  The event was put on by the Latino Coalition of Haverhill.
Argenis Marte, President of the Coalition and Nairoby Sanchez pointed out that the new system, that includes representation from each of Haverhill's 7 Wards, will offer a greater possibility for voices throughout our city to be heard and responded to.
Several declared candidates attended along with others who are seriously considering a run for office.
Kaitlin Wright, Haverhill's City Clerk headed up the Voter Registration table along with Kay Green-Byrd and Herb Bergh.  She was happy to have been able to acquire several much needed bilingual poll workers.
State Representative Andy Vargas was also in attendance along with three officers from the Haverhill Police Department, Sgt. Kevin Lynch and Officers Milady Figueroa and Christian Guzman.
In speaking to those in attendance, Rep. Vargas said, "This is an exciting and somewhat complex time for Haverhill municipal elections and the Latino Coalition is doing a great job educating and reaching out to the community. It's going to take some time and there will be some bumps in the road as the city embarks on a new municipal election system, but this new system will be a tremendous asset to current and future Haverhill generations and those who wish to serve. I thank the Coalition for their steadfast work."
Printed information about the role of a city councilor and a school committee member, as well as copies of the June 6 ballot question were also available for attendees.