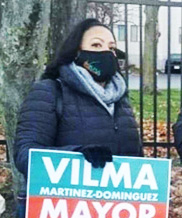 Can you trust Vilma?
By Dalia Díaz
It has been extremely disappointing, that with five mayoral candidates, there were no debates this year.  I am not speaking about "meet the candidates". I am speaking about an actual debate. A debate that would expose candidates to intelligent thought-out questions and ideal situational responses that would enlighten the voters if candidates were fluff, puff, or the real thing.
There are advantages in these debates, or as I called them confrontations. Especially with the media involved, because it's the best method to identify who are the candidates, and what is expected of them by the voters. This is most true, especially if they are honest. However, honesty and candidates rarely go together, especially in elections. Promises are made and promises are not followed through.
So let's say that I was a member of the press asking candidates questions… It could happen. This is one of the questions or concerns that I would either ask, portray, or identify.
When the Merrimack Valley Planning Commission appointed Vilma as Lawrence's representative, I glanced at her long and sententious qualifications in their announcement. The first paragraph was the most shocking; it said that "she is an urban planner with 24+ years of experience in municipal and non-profit organizations."
That is a misleading sentence if I ever saw one. She may have 24 years working in both municipal and non-profit organizations, collectively. But she definitely does not have 24 years working in urban planning.
Her job duties, at the YWCA, were the skills listed on MVPC's website (extensive training in social and racial justice, gender and health equity, and community-based participatory research) so where did she acquire the 24+ years as an urban planner to qualify her for the current job. She was a social worker at the YWCA dealing with domestic violence, not urban planning.
Her resume also states that she "provides administrative oversight to CDBG, HOME Investment Partnerships, and Emergency Solutions Grant entitlement programs, and to a Lead Abatement Program." I don't understand why she would cite a program that was denied funding in the last two years. We now know how the City of Lawrence lost millions in those programs with HUD's denial, due to mismanagement and administrative filing errors
The department that she runs in local government, Community Development Department returned $134,630.84, to the Federal government, because she and her department didn't know what to do with funds. For those who don't understand how to manage public funds, let me tell you that returning funds to the governing agency that awarded the funds is a SIN. It also puts the department, and the mayor, in a predicament of bad management, and the probability of not being awarded the funds in the future.
It is believed that candidate Vilma holds a Bachelor's Degree in Science from Springfield College with a major in Health and Human Services. She states that she also holds a nine-month Certificate Program from the Institute for Nonprofit Practice from Tufts University's Jonathan M. Tisch College of Civic Life, meeting for four hours once a month.
Upon checking the college's website, I could not find a Bachelor's degree in Health and Human Services being offered at any campus of Springfield College. Her City of Lawrence job application was requested several years ago through a public records request, also states that she attended Northern Essex Community College for 1.5 years and then attended 4 years to Springfield College, yet her resume says she attended from a period of January 2000 to December 2001.
That's two years of college, but she states that she had 5.5 years of college!  I thought maybe she was working in both higher educational institutions at the same time. The semester hours from Northern Essex Community College, are transferable to other universities; so having attended for 1.5 years, why did she spend 4 additional years at Springfield College, as stated on her application.  Her resume, application, and cover letter do not reflect whether or not she graduated from college just that she attended.
She was employed at the Lawrence YWCA from 2003 through 2017. It was then that she applied, and was appointed, to her current position. Her application says that she has never worked for the City of Lawrence in prior years. But, in 2010 she was contracted, by Mayor William Lantigua as Coordinator of the Mayor's Health Task Force.  She admits, in her letter, that she held that position for 15 years through the present.
I recall Mayor Rivera campaigning on the promised that he would only hire qualified, educated, and professionals for city jobs.  Vilma's application, resume, and cover letter have a lot of inconsistencies.  At this moment, I questioned whether or not Vilma Martinez Dominguez has a college degree. In a debate, that would have been a question asked by members of the press.
However, it's not the first time former Mayor Rivera fails the residents, with his hiring practices. You can recall that he gave us a city engineer (Theodoro Rosario), who was an agronomist. City residents thought that corn was about to be farmed in the streets, or that Theo would have been in charge of the vegetable markets that make it to the front of the senior center every month.
During a deposition, former Mayor Rivera once lied about Wendy Luzón having a college degree, when later it was found that she only had (and continues to have) completed a high school. There are other supporters placed on good jobs with counterfeit credentials, and it proved to be the best way to guarantee loyalty.  Now, Rivera is supporting her for mayor of this city.
The issue here is the lack of truth. Lies say a lot about a person.  Whether or not an individual has a degree is only a testimony of accomplishments, and basic training or knowledge to perform a particular job.  The most valued quality will be his or her honesty; the trust that the work will be performed according to what's required.
There should be no disappointment at all, about her.  She performed as expected.  The Community Development Department manages many millions of dollars, from many sources, and she has learned quickly to play the game by giving opportunities to friends and a blind eye when required. One such given gift opportunity, because she has a good heart, was a lead and rehabilitation no interest loan given to Kendrys best buddy Acting DPW Director Franklin Miguel.
In 2016, Franklin Miguel Francisco was working for the Massachusetts Department of Transportation (Mass DOT) and at the suggestion of Kendrys Vasquez, he applied for a lead paint grant of $15,000.  There were delays in the completion of the work, with the poor management of the grant, when they ended up returning lots of money to the government. The work was eventually completed on June 19, 2018.
At the beginning of 2018, Franklin Miguel was hired to work with the City of Lawrence as the Capital Asset Manager. You know, with help from Vasquez who was then Council President, and Mayor Rivera they approved the new job that they had completed putting together. On March 1, 2018, Franklin signed a contract with MassHousing for a $35,000 loan.  Curiously, the Income Verification Grant Agreement filled out, had proof of income of his 2015 IRS statement – of when he was employed by Mass DOT. His earnings that year were a measly $72,957.98. Common sense tells me that the income verification form should have been updated but it wasn't.
The Lead Abatement Program application shows on page 6, a list of family members that are dependent on his salary. On page 7, there's another listing of the children again. Then, the Income Verification Grant Agreement presents a statement from his father, on pages 2 and 3 swearing that they are being supported by their son and on page 12 is a similar listing of family members.
Those two lists were written two years apart, yet there was no mention of the children's mother on neither completed form.  Franklin listed himself, his parents, and three children.  Everyone knew of her existence – that she lived with them and that she was employed. How does this look bad for both Franklin Miguel and Vilma? Well, it should; favoritism that otherwise others would not and could not have received.  It shows the mismanagement of funds.  But it also smacked her in the face because it still did not stop Kendrys from running.  If I were her, I would have blasted that across the city.  But then again, she would have looked very bad.
If Franklin Miguel would have listed her income, he would probably surpass the income limits/levels for receiving the grant. Was this an oversight or intentional?  Have other friends been benefited from this behavior? Well, let's see.  A 2019 letter, attached to the file, shows that the Housing Manager (E.Urena) wrote to Vilma with an explanation for some delay in getting the work accomplished.  But the work was completed one entire year before the letter was produced.  It seems to me that someone was covering their ass!