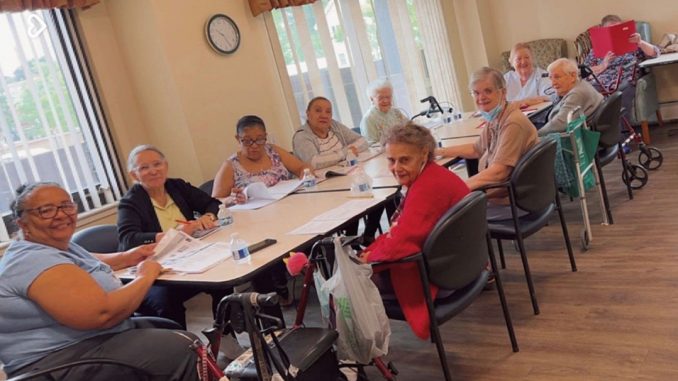 Connecting, socializing and learning from one another
Mary Immaculate Residents Enjoy New Spanish/English Language Class
On a regular basis, three different groups of residents on Mary Immaculate Health/Care Services' (MI) campus – Independent Living, Assisted Living and the Nursing and Rehabilitation Center – come together to enjoy a friendly game of bingo, which is presented in both English and Spanish. Although the game is fun for all, the goal is to allow for the community's diverse and multicultural residents to connect, socialize and learn from one another.
Recently MaryLuz Roldan, Activities Coordinator at MI's Residential Community, was hosting bingo in Spanish and was approached by an English-speaking resident. MaryLuz shares, "She simply said, I want to learn Spanish. I want to play bingo in Spanish and talk with other residents. Can you help me learn?"
MaryLuz gave the idea some thought, consulted with her activities colleagues and decided to offer a weekly language class that offered residents the opportunity to learn a bit of Spanish or English – and the response was excellent! MaryLuz led the class. She shares, "I'm Puerto Rican, but I was born and raised in the United States. There are many advantages to speaking multiple languages – and our residents appreciate that."
The very first class drew more than fifteen residents who wanted to learn the basics of a new language. MaryLuz began with greetings – Hola!/Hello!, Buenos dias/Good morning, Buenas noches/Good evening and more.
"Our residents want to try new things. They're excited to connect with others, make new friends and communicate with bilingual staff members in Spanish," says MaryLuz. "I use television, YouTube videos and worksheets as teaching tools. I even assign homework."
The language class has been a terrific complement to the activities program because it encourages residents to socialize and to MI's Mission to provide healing and care for the whole person, in service to all in our communities.
MaryLuz shares, "Many in the group are learning the rosary in Spanish. It's been wonderful to see so many residents embrace the opportunity to be open, connect and learn from others."