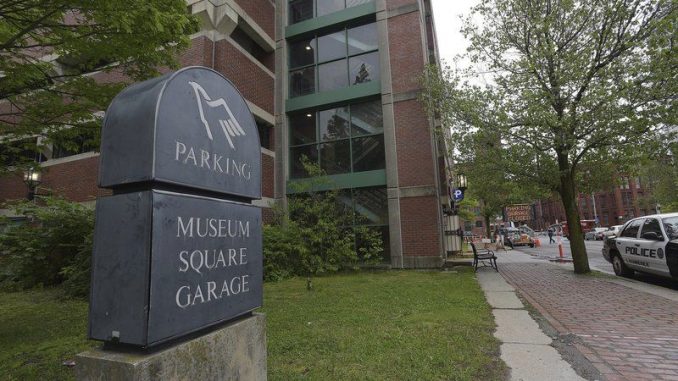 Corruption in Lawrence: Museum Square and Bid Rigging
By Dalia Díaz
In Late September 2019, while then-Mayor Dan Rivera followed a judge's order to create parking spaces and added shuttle buses to residents of Museum Square Apartments, the Chief Administrative & Financial Officer (Mark Ianello) was breaking the law to get what he thought was the city's money.
A long time ago, before September 2019, an agreement was created in which the city has yet to see one cent of any sums of money from all of the parking agreed for the Museum Square Apartment owners (Jackson Street Housing Associates) and their residents.  Let's just say that the city came out on a losing side, and the attorney, who reviewed that contract for Lawrence, was not that bright.  Lawrence had not seen any payments since the Museum Square Apartments were created, along with the Museum Square Parking Garage.
However, in or around September 2019, CAFO Mark Ianello circumvented the legal process (without Mayor Rivera knowing it) and forced a higher assessment of Museum Square Garage.  Today, Museum Square Apartments is assessed at $4,383,000.00. Back in 2019, the property was assessed at $3,258,700.
However, because the Jackson Street Housing Associates were not paying the city any money for the garage (although they were collecting it from their residents), Mark decided to get the city's money through the back door; assessing the property an additional $1 million.  It worked and you did not know the difference or the facts until now.
This Chief Administrative & Finance Officer is just as unethical and has no integrity.  He does not have the best interest of the City of Lawrence, and is cavalier and allows corruption.  He should resign.  I wonder what other businesses have the CAFO forced assessment of property arbitrarily to make his budget look better.
But you won't see an investigation by Mayor Kendrys Vasquez on this issue.
The only fact that has occurred is that Jackson Street Housing Authority has increased rents on tenants to pay for the increases in tax assessment. Hey, but let's be transparent, hey?
Bid rigging
Previously, in an earlier summer edition of Rumbo, we wrote to you, the readers, about Cemetery Services, Inc. A company that was awarded a $300,000 contract after all of the owners and silent owners each donated $1,000 to Interim Mayor Kendrys Vasquez's campaign.
Sources have indicated that the City of Lawrence has illegally authorized a second contract for an amount of $300,000 over the second-place bidder. Not only is this contract award fishy because of the campaign contributions to Mayor Vasquez's funds, but the law states that the lowest bidder must be awarded the contract unless a previous service performance issue was submitted by the city.
The contract was for a base pricing for a project (greenery and trash), and then the city was supposed to ask for alternate pricing for additional work contingent upon funding.  This was not done in that manner and therefore awarded to CSI to pay for campaign contributions.
A complaint has been filed with the Attorney General and other agencies as well. It's as the previous Personnel Director stated, that the Chief Administrative & Financial Officer is just doing whatever Mayor Vasquez asks and not protecting the city's funds or following the law.
Additionally, a project of repairing roads was illegally awarded as well.  The city was supposed to place a bid for services so that companies could submit their bids.  In a recent project for road repairs, the city bid rigged. Instead of sending a bid for services, the city personally reached out to about ten (10) mom and pop construction companies in the city, and asked them to each submit a quote of less than $10,000 per provided area, to circumvent the procurement process. It's called bid-rigging and it's illegal.
Bid-rigging is a fraudulent scheme in procurement auctions resulting in non-competitive bids and is performed by corrupt officials, by firms in an orchestrated act of collusion, or between officials and firms. This form of collusion is illegal.
The typical objective of bid-rigging is to enable the "winning" party, in this case CSI, and the other smaller companies for the second road repairs project, to obtain contracts at uncompetitive prices (i.e., at higher prices if they are sellers, or lower prices if they are buyers).
The other parties are compensated in various ways, for example, by cash payments, or by being designated to be the "winning" bidder on other contracts, or by an arrangement where some parts of the successful bidder's contract will be subcontracted to them. In this way, they "share the spoils" among themselves.
Bid rigging almost always results in economic harm to the agency which is seeking the bids, and to the public, who ultimately bear the costs as taxpayers or consumers.