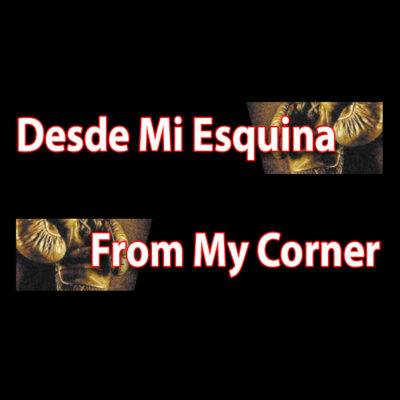 Dishonesty in the Lawrence City Council
For many months I have been calling for the Lawrence City Council to meet in the Chambers and hold their meetings live with an audience like other cities are doing.  They have controlled the distancing mandates and number of people in the room but we can see their faces on television and online.
Little did we know that the use of Zoom meetings would avail them of the opportunity to cheat the public.  We discover this abuse during the Budget and Finance Committee meeting of May 24, 2021.  The picture on-screen was that of the Recycling Director Carlos Morel but the voice belongs to someone who speaks English perfectly while Mr. Morel cannot and this unknown individual introduced himself as Mr. Morel.  How would you categorize this action before the public and the fact that City Council members allowed it?  They all know Mr. Morel and had to know it was not him speaking, fooling the audience.  None of them there to ask him to identify himself and went along asking questions.
If this happened during a live meeting, who knows what other shenanigans we are all victims of by the members of the Lawrence City Council?  This is a blatant disregard for honesty, integrity, and decency by the members of this council.
I called the President of the City Council Marc Laplante immediately after the meeting on Thursday night.  He returned my call the next morning just to say that he needed to speak to Interim Mayor Vasquez but he has not called me back as promised.
I sent an email to City Attorney Raquel Ruano with all the above information and video; she also has not responded.  There's total silence at City Hall although I now heard that Mr. Morel has been suspended for 5 days without pay and these issues will be brushed under the carpet, as usual.
The Open Meeting Law
When we thought that everything was going to open up and we would finally have the city council meetings in the Council Chambers, Governor Charlie Baker extended the prohibition and we continue with the virtual meetings until September 1, 2021.
As Richard Russell wrote on Facebook, "It appears that he wants to protect the elected officials from direct visual contact from those that elected some of the 'wastrels' that have managed to get themselves elected."
The Interim Mayor said that his proposed budget is balanced even though he's giving exorbitant raises left and right to so many employees without raising taxes.  I never was a math whiz I was bad at it, but I have no idea where the $15 million increase over last year's budget will come from.
Let's see which councilor will approve it for being perfect.
Laws are not for everybody
Laws and ordinances are on the books to allow communities to work and live in an orderly and peaceful manner.  The chaos arises when certain individuals (most often politicians and city officials) believe they are exempt as if they were better than anybody.
Last Sunday, May 23, 2021, mayoral candidate Vilma Martinez Dominguez attended Opening Day for Men's Latinos Unidos Softball League at O'Neil Park, 65 Lawrence St., Lawrence.  She was wearing a campaign t-shirt and I understand that it's against the Ethics Commission's regulations.  She had a group of supporters and political signs as the pictures show in violation of the Ethics Commission rule that clearly states, "The conflict of interest law generally restricts public employees from using public resources in connection with a campaign or political activity, except under limited circumstances."
In the group picture appears Martha Velez, Health and Human Services Director, Councilor at-Large Ana Levy, Police Chief Roy Va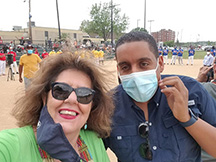 sque, DPW Director Franklin Miguel, Interim Mayor Kendrys Vasquez, Mayoral Candidate Vilma Martinez Dominguez, and Police Officer Abel Cano – all city employees who should have known better.
In another picture is Martha Velez and Joel Chalas, a DPW foreman that Interim Mayor Kendrys Vasquez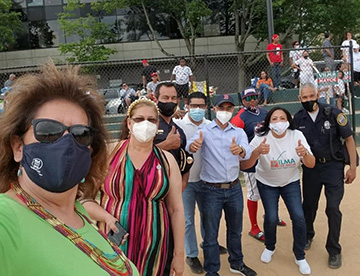 introduces as the liaison between his office and the Dominican Embassy in Washington.
One of the rules on the Ethics Commission's website says that the candidate should not accept contributions from anyone, "   who had or has any interest in any particular matter in which the candidate participated."  Vilma Martinez Dominguez is the director of Community Development in Lawrence and it is my understanding that she is directly involved with real estate developers, real estate investors, and large property owners.  While searching the list of contributors to her campaign, I found many of them and also some who claim to be unemployed but are proprietors.
I sent an email to City Attorney Raquel Ruano with all the above information and pictures; she also has not responded.