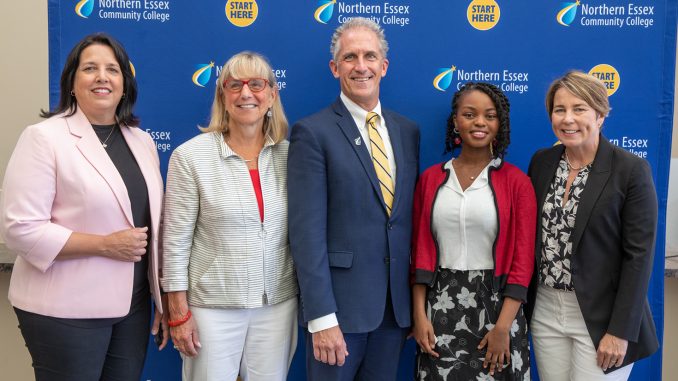 Governor Healey Celebrates Tuition Equity at Northern Essex
Governor Maura Healey, Lieutenant Governor Kim Driscoll, and Senate President Karen Spilka were among those who gathered on the Lawrence Campus of Northern Essex Community College to celebrate Tuition Equity in Massachusetts.
They were joined by legislators, advocates, students, and leadership from Massachusetts' public colleges and universities. The Tuition Equity Bill was included in the FY24 state budget and allows for students without legal immigration status to qualify for in-state tuition rates and state financial aid at public colleges or universities in the Commonwealth.
"This is a great day for our state. This is a big step forward for students who have grown up here, worked here, and followed their dreams here in Massachusetts. It's what is fair and what is right. They're going to continue their journey on the same terms as their peers," said Governor Healey.
"Today's celebration is 20 years in the making," remarked NECC President Lane Glenn, who was a key advocate for the Tuition Equity Bill. "In that time, and in particular the last few months, a lot of people have contributed their time, talent, and support to this effort."
Several students also attended Tuesday's event. Joan Shauri is a General Studies: Health Professions major at Northern Essex. She moved to the United States from Tanzania when she was just ten years old. At age 16, she found out she was undocumented, which made her goal of one day becoming a nurse practitioner seem even further out of reach.
"In order to apply for the nursing program, I had to take prerequisite classes, which would typically take a person a semester or two to complete; however, it took me years because I had to take one or two classes at a time. Because of my status, these classes cost three times the amount an in-state student pays for tuition," Shauri shared with the audience in a moving speech. "With the passing of this new bill, I now feel as though I have an opportunity to pursue my education further."
The bill amends wording to the General Laws to allow in-state tuition and fees to undocumented students who have attended high school in Massachusetts for at least three years and either graduated from a high school in the state or attained the equivalent. It is effective immediately. An estimated 16,000 students in the commonwealth can benefit from this policy change.
Students interested in learning more about admissions at Northern Essex should visit the webpage or contact enrollmentservices@necc.mass.edu.
###
About Northern Essex 
Northern Essex Community College, with campuses in Haverhill and Lawrence, has been educating students in the lower Merrimack Valley since 1961. In that time, close to fifty-thousand alumni have earned a certificate or associate degree from the college and gone on to meaningful careers or to further education with one of Northern Essex's many four-year college and university partners.
The college offers 60 certificate and associate degree programs in areas such as health care, business, computer science, criminal justice, engineering, and liberal arts, as well as non-credit programs for area employers and their employees. To learn more about Northern Essex, visit www.necc.mass.edu or call 978-556-3700.