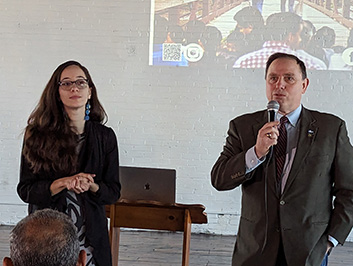 ¡La Poesía Arropa a todo Lowell!
May 5th and 6th at Middlesex Community College
¡Una vez más, la Ciudad de Lowell se viste de gala y a qué nivel!
El Festival de Poesía La Guagua hace su retorno después de un buen tiempo aislado por consecuencias de la pandemia que todos sufrimos. Como hasta ahora así ha sido, el festival cuenta con el apoyo del Middlesex Community College, lugar donde, dicho sea de paso, nace el festival, para seguir deleitando a la concurrida audiencia que desde sus inicios ha dicho presente en dicho evento.
De acuerdo con su director e ideólogo, el profesor Willy Ramirez, el fin de semana que dicho evento tendrá lugar, estará lleno de presentaciones, paneles y lecturas de poesías en su idioma original y en traducción, representando a unos 25 poetas, traductores, editores provenientes de 16 países y en 15 diferentes idiomas.
El evento también incluye la entrega a todos los visitantes de una antología con los poemas presentados durante todo el festival por los poetas invitados. Es una antología multilingüe, que incluye muestras de poesía traducida en los siguientes idiomas: Árabe, Hindi, Urdu, Ruso, Creole Haitiano, Romano, Sueco, Filipino, Sanscrito, Francés, Alemán, Español e Inglés. ¡Sin lugar a dudas, un evento meramente multicultural!
El evento es familiar y está abierto a todo un público que no solamente tendrá la mágica experiencia de absorber conocimientos y cultura, sino que también tendrán el placer de disfrutar de un rico almuerzo y bebidas refrescantes que serán entregados como parte del festival.
El festival estará presentándose en las instalaciones del Middlesex Community College
The Richard & Nancy Donahue Academic Arts Center, localizado en el 240 Central Street. Lowell, MA. La gran apertura está pautada para el viernes, 5 de mayo del presente año 2023 a las 5:00pm terminando a las 8:30pm.
El sábado, 6 de mayo será el gran día de continuidad y finalización del evento comenzando desde las 8:30am hasta las 5:00pm. Todo completamente gratis y abierto a todo el público.  Un evento verdaderamente refrescante donde las palabras y los pensamientos literarios serán el verdadero protagonista.
Lowell sin lugar a dudas se viste de gala! ¡A disfrutar al máximo!