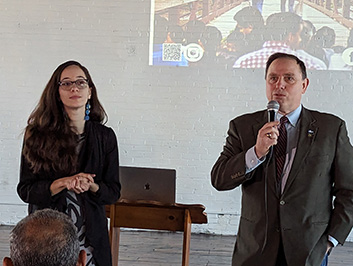 Poetry Covers all of Lowell!
May 5th and 6th at Middlesex Community College
Once again, the City of Lowell is decked out, and to what degree!
The La Guagua Poetry Festival makes its return after a long time isolated due to the consequences of the pandemic that we all suffer. As has been the case up to now, the festival has the support of Middlesex Community College, the place where, by the way, the festival was born, to continue delighting the crowded audience that has been present at the said event since its inception.
According to its director and ideologue, Professor Willy Ramirez, the weekend that the event will take place will be full of presentations, panels, and poetry readings in their original language and in translation, representing some 25 poets, translators, editors from 16 countries and in 15 different languages.
The event also includes the delivery to all visitors of an anthology with the poems presented throughout the festival by the invited poets. It is a multilingual anthology, which includes translated poetry samples in the following languages: Arabic, Hindi, Urdu, Russian, Haitian Creole, Roman, Swedish, Filipino, Sanskrit, French, German, Spanish, and English. Without a doubt, a purely multicultural event!
The event is family-friendly and is open to an entire public that will not only have the magical experience of absorbing knowledge and culture but will also have the pleasure of enjoying a delicious lunch and refreshing drinks that will be delivered as part of the festival.
The festival will be presented at the facilities of the Middlesex Community College The Richard & Nancy Donahue Academic Arts Center, located at 240 Central Street. Lowell, MA. The grand opening is scheduled for Friday, May 5 of this year 2023 at 5:00 p.m. and ending at 8:30 p.m.
Saturday, May 6 will be a great day of continuity and completion of the event starting from 8:30 am to 5:00 pm. All are completely free and open to the public. A truly refreshing event where literary words and thoughts will be the true protagonist.
Lowell certainly dresses up! Enjoy to the fullest!