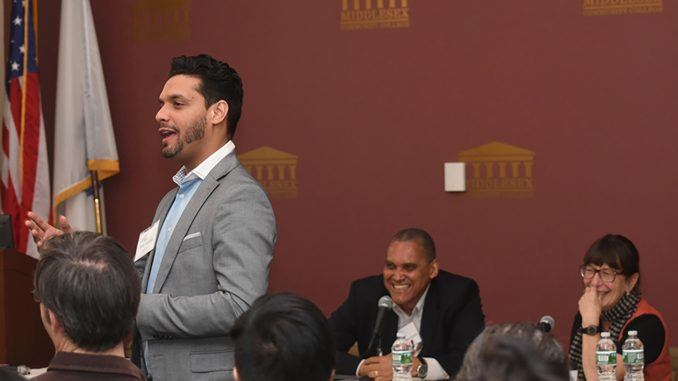 MCC será sede del IV Festival de Poesía La Guagua Presencial
Middlesex Community College se complace en anunciar el IV Festival de Poesía La Guagua. El festival se llevará a cabo el viernes 5 y el sábado 6 de mayo en el Richard and Nancy Donahue and Family Academic Arts Center de la universidad en Lowell. El tema del festival de este año es la traducción con énfasis en la inmigración y la justicia social.
"Finalmente, podemos regresar el Festival de Poesía La Guagua por primera vez desde el comienzo de COVID", dijo Willy Ramírez, profesor de MCC y fundador del festival y uno de los organizadores. "Como en años anteriores, planeamos el festival con la intención de ofrecer a los miembros del colegio y sus comunidades aledañas, así como a los propios poetas invitados, una oportunidad única de experimentar el poder de la poesía y la traducción. Estamos emocionados y agradecidos por esta oportunidad de unirnos una vez más".
La Guagua presenta a poetas, traductores, editores y editores reconocidos y galardonados de todo el mundo. El festival ofrece una oportunidad única para que las personas reflexionen sobre los temas de traducción, inmigración y justicia social a través de una exploración de las obras literarias presentadas en el festival en su idioma original, así como en traducción.
La audiencia disfrutará de una actuación de canto en vivo de Audy Ramirez, presentaciones principales de la poeta y traductora Vanita Ruth y el poeta ganador del premio Pulitzer Vijay Seshadri, paneles de lectura multilingües, conversaciones sobre traducción literaria y un almuerzo interactivo el sábado con poetas destacados.
Los asistentes también recibirán una copia impresa de La Guagua Poetry Anthology: The Path Belongs to Us, que incluye las obras presentadas en el festival por poetas visitantes y con obras en árabe, inglés, filipino, francés, alemán, criollo haitiano, hindi, rumano, ruso, sánscrito, español, sueco, vietnamita y urdu. Los estudiantes que estén registrados para el curso de 1 crédito de fin de semana de IDS también realizarán un recorrido histórico por Lowell y asistirán a talleres de escritura creativa conducidos por los poetas y traductores visitantes.
Los poetas de este año incluyen a Vijay Seshadri, Rhina P. Espaillat, Ruth Vanita, Marc Vincenz, Philip Nikolayev, Katia Kapovich, Vivek Narayanan, Ben Mazer, Doug Holder, Fadir Delgado, Christina Liu, Amel Bachiri, Eva Salzman, Salvador Madrid, Carlos Villalobos, Raquel López Suárez, Yousif ALhabob, Azad Iskander, Jose Edmundo Ocampo Reyes, Michèle Voltaire Marcelin, Claudio Sánchez, Ariadna Muñoz, Cayleigh Baillargeon, Lexi Balevre, and Ramon de Jesús Duval.
El evento es gratuito y abierto al público, incluido el almuerzo del sábado. El viernes 5 de mayo, el evento incluirá una recepción, una presentación principal y una lectura de poesía a cargo de poetas invitados entre las 5 p. m. y 20:30 Los eventos del sábado se llevarán a cabo de 8:30 a. m. a 5 p. m. e incluir una presentación principal.
El Centro de Artes Académicas de MCC está ubicado en 240 Central Street en Lowell. Dado que el estacionamiento no está disponible en el lugar, el estacionamiento público más cercano es Early Garage en 135 Middlesex St.