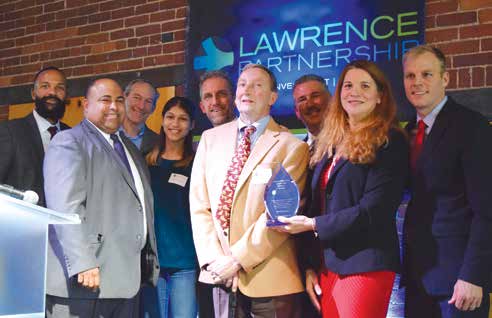 "You have to be in the room to feel the energy, to see what is really happening in Lawrence", were the words of Linda Pizzuti Henry, the Managing Director of the Boston Globe and the Director of the Red Sox Foundation. Her remarks echoed statements made earlier in the day by Lawrence Partnership Executive Director and other speakers throughout the hour-long program at the Lawrence Partnership's 4 Annual Meeting. For the more than 400 leaders present from Lawrence, Boston, and throughout the Merrimack Valley, they benefited from a first-hand sense of the growing energy in Lawrence, while also being contributors to it.
The Lawrence Partnership, a private/public partnership committed to economic development in and around Lawrence, was established 3 years by a broad coalition of cross-sectoral CEOs. The breadths and depth of the organization's network was on display at the event as stakeholders came together from local and state government; health and educational institutions; the non-profit community; and numerous private sector industry from financial services to manufacturing. The speakers, too, representing the various areas of priority and influence of the group, including comments made by Mark Cochran, the CEO of Jeanne D'Arc Credit Union along-side of Mariela Ramos, a recent Lawrence High School graduate, in response to a summer earn and learn program facilitated by the Lawrence Partnership.
"I didn't have a strong sense of what I would do after high school," Ramos said, "but the opportunity to get training and experience in the region's fastest growing industry—healthcare—has positioned me for more opportunities for the future." Cochran is the Co-Chair of a sub-set of stakeholders, the Lawrence Pathfinders, which is helping to advocate for and implement work-based learning opportunities for LHS students through job shadows and internships in regional businesses.
In addition to updates on other programs catalyzed by the Lawrence Partnership, including new loans made through the Venture Loan Fund, the selection of next year's resident in the food-based incubator called the Revolving Test Kitchen, and investments of public art at the Buckley Garage, announcements were made about new initiatives to support Lawrence's growth and success through a collaborative relationship with the Boston business community.
Jeff Bussgang, a Boston-Based Venture Capitalist and President of the Alliance for Business Leadership, formally announced a new program that will leverage Harvard Business School faculty and curricula to create an executive leadership program for Lawrence Leaders. "By providing access to incredible experiences and education through Harvard Business School, this cohort of Leaders from Lawrence will be better positioned to take the community to the next level."
The culmination of the event was the presentation of the inaugural David Tibbetts Economic Development Impact Award by Secretary of Labor and Workforce Development, Rosalin Acosta, who was on site to provide Keynote remarks. Presenting it to David Tibbetts, for whom the award is named, Secretary Acosta noted that, "there is not a more deserving man to receive this award." David himself, closed out the day by remarking that after a full career of advancing economic development policies at the regional and state level, the work of the Lawrence Partnership represents exactly what he always believed was the most effective approach: "bringing together law makers with business leaders to work together real change for their communities."