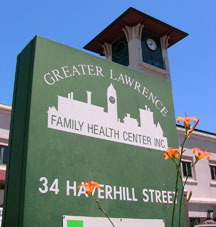 Lowest-Paid Doctors in MA Rally for Long Overdue Fair Contract  
Over a Year Post-Unionization, Greater Lawrence Residents Fight for Their Basic Well-being 
Lawrence, MA –On Tuesday, August 29, resident physicians at the Greater Lawrence Family Health Center (GLFHC) rallied to demand a fair contract. More than a year after unionizing with the Committee of Interns and Residents (CIR/SEIU) in March 2022, the doctors are still in negotiations for a contract that supports their well-being, as they care for some of the state's most vulnerable patients.
Greater Lawrence residents remain the lowest-paid across Massachusetts, and are dedicated to providing top quality care to the largely immigrant and working class communities of color that call the Merrimack Valley home. In addition to a living wage that reaches parity with neighboring programs, the residents are calling for improved mental and physical health support. "Most of us who choose to train in Lawrence do it because we are motivated to practice medicine in a way that fosters a more equitable and just healthcare system for everyone," said Dr. Gabriela Velasquez. "We know that we deserve a fair and livable wage and the support to do this taxing job and not just survive, but thrive."
The residents were inspired to organize not only by their desire for a more equitable healthcare system, but by Lawrence's proud history of union organizing, including the 1912 textile strikes. Their action follows the recent contract win by residents at Boston Medical Center, who successfully secured one of the union's largest wage increases to date earlier this month.
For the frontline GLFHC residents, who have not received a pay increase in more than five years, the program's significant pay disparity jeopardizes their ability to care for their own needs as they care for patients. "So many of us find it increasingly hard to make ends meet," said Dr. Tong Yan. "Just recently, I started rationing my medication because I was struggling to cover both its cost and my other living expenses. GLFHC needs to ensure that residents have the pay and health benefits we need to sustainably provide the high-quality care our patients deserve."
The residents were joined in solidarity by elected officials, including Lawrence At-Large Councilor Celina Reyes, who stated that, "These dedicated physicians provide exceptional care to thousands across the Merrimack Valley, and I am proud to stand with them as they fight for a fair contract. Greater Lawrence, one year of waiting is long enough. This community relies on your residents to stay healthy and thrive. It's time to finalize a contract that will ensure they receive the compensation and benefits essential to maintaining their own well-being, so they can continue serving our community."
The Committee of Interns and Residents (CIR) is the largest housestaff union in the United States. A local of the Service Employees International Union (SEIU), representing over 30,000 resident physicians and fellows. Our members are dedicated to improving residency training and education, advancing patient care, and expanding healthcare access for our communities.