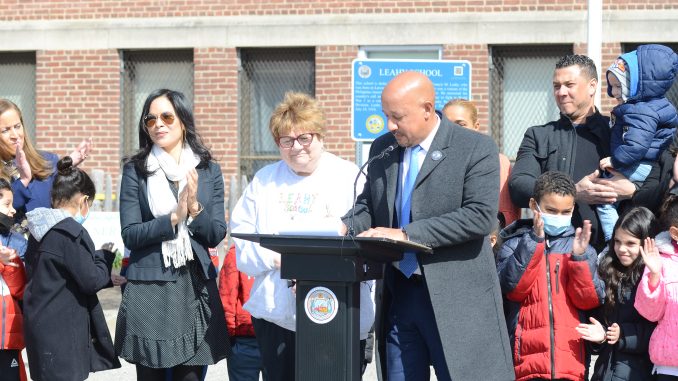 WITHOUT RAISING TAXES ACCOMPLISHED
The Total Cost of the School Is $103.7 to Offer Top-Notch Education to 1,000 students
LAWRENCE, MA. -MARCH 23, 2022 – On a remarkable ceremony on Wednesday, March 23, the City of Lawrence's Mayor Brian A. De Peña was joined by school authorities, the Lawrence State Delegation, members of the Lawrence Alliance for Education board, teachers, students, parents, and stakeholders, to celebrate the long-awaited signature of the contract in front of the Francis M. Leahy Elementary School.
"There is no better investment than building first-rate schools to provide quality education to our children. Our future depends on it," said Mayor De Peña
As per the record, on December 16, 2020, the Massachusetts School Building Authorities (MSBA) reported that "The District identified in their Statement of Interest, numerous deficiencies and structural integrity issues including, mechanical, electrical, and plumbing systems, as well as envelope issues including windows and roof deficiencies."
Superintendent Cynthia Paris thanked the residents' collective effort for accomplishing such an important goal for our community. On Tuesday, February 15, 2022, the City Council unanimously approved the ARPA fund to give the green light to Mayor De Peña to approve the construction of a new sustainable and cost-effective public school facility to provide the Lawrence students with a top-notch learning environment.
State Representative Moran indicated that he would continue the fight from Beacon Hill to guarantee better schools for the community to continue preparing the future leaders of our community.
As the city's population continues growing, the Administration of Mayor De Peña has been engaged in ongoing conversations with his team about employing smart growth planning principles to build schools that better serve and support students, staff, parents, and the entire community to prevent overcrowded classrooms. According to the United States census of 2020, the estimated population in the city is 89,143 inhabitants, while the School District has twenty-six public schools serving 12,786.
One of the most emotional and memorable moments of the event occurred when Mayor De Peña gave his golden-like pen and a copy of the contract to former Leahy school's Principal and member of the LAE Board, Patricia Mariano, who has been one of the most diligent and incontestable advocates of the new school. "THANK YOU," uttered the veteran school committee member.
The Francis M. Leahy School was built in 1921. It was named after "FRANCIS LEAHY who served in the American Expeditionary Force in the Philippines, the Mexican border, and the Lawrence Bread and Roses Strike before achieving the rank of Captain in France during WWI," Lawrence World War I Project (City Councilor Mark Laplante).