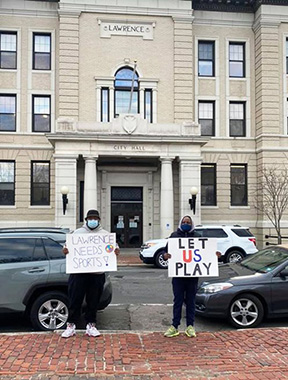 A group of some 40 Lawrence High School students staged a protest in front of City Hall in order to be heard about their need to play sports.  Since the pandemic, everything came to a halt and it is young people who felt the consequences most with so much idle time.
"My son and hundreds of kids here in Lawrence play High School sports," said Alex García.  "Some kids are born to play sports and The City of Lawrence needs to review the guidelines and put a structure that will allow the kids to play their sport just like every other big city and towns are doing."
He stated that some kids go to school just for sports. They maintain good grades because if they don't they can't play. Without sports, kids drop out and find jobs at an early age which in many cases means the end of their educational career.
"We need to find a solution fast and get these kids playing," added Mr. García.