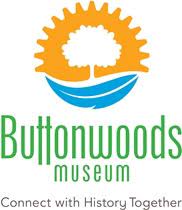 Buttonwoods Museum and its Welcome to Dominicans
By Audy Ramirez
            One of the great experiences as human beings in our process of evolution is, without a doubt, the phenomenon of migration and its effects that we notice and experience daily, to the point of becoming part of our daily lives. If there is a country in this world that can more than talk about this topic, it is without a doubt the United States of America. Within this nation, the state of Massachusetts is definitely one of the pioneers. Days ago I confirmed that reality, once again!
            Leaving my job in the City of Lawrence, I felt like visiting a museum. I opened the Google page and saw an ad for the Buttonwoods Museum in the City of Haverhill, whose page was promoting exhibits telling the story of the City of Haverhill. I found it interesting and immediately went to the museum. Upon arrival, I see a single car parked, it was almost 5:00 pm closing time. Mrs. Janice Williams, Director and Curator of the museum received me and explained that she was going to close, but we still started talking.
            During the talk, she told me that the museum is preparing for an exhibition called the Dominican Carnaval Costume Exhibit, which will take place from Tuesday, September 6 to Saturday, October 15. The word "Dominican" surprised me, to the point of asking her to repeat what she had said.
            Indeed, one of the museums of the City of Haverhill is preparing an artistic, cultural and historical exhibition on half of an island embedded in the very center of the Caribbean Sea: Dominican Republic: Dominican Carnaval Costume Exhibit.
I asked him why make this presentation about a country that doesn't have the numbers like the City of Lawrence.
            "Don't believe it, there are many Latinos here. They've been coming from Lawrence mostly for quite some time now," she replied. What Mrs. Williams says is true, because according to data published by the 2010 census, 14% of the population in that city identified themselves as "Latinos." Obviously, within that number, it is normal that the number of Dominican nationals is presented as one of the largest. The point is that the Latino community is expanding like open air in this country.
            All members of the community are invited to participate in this important artistic, cultural and historical exhibition for technically an entire month: September 6 to October 15, the month in which Hispanic heritage is celebrated in this country.
            The space is open to anyone interested, completely free. For more information, those interested can visit the page www.buttonwoods.org, which is the official page of the Buttonwoods Museum, located at 240 Water Street. Haverhill, MA. 01830.
            Information is also available at 978-374-4626. Please support this type of initiative with vigor and love. Culture, art, history, and knowledge are what make a society great. Let's try it.